Dress – The Limited (similar) | Cardigan – The Limited (similar) | Scarf – JF&A Show (similar) | Shoes – Nine West (similar)
It's so cliché to say that a little black dress is a closet staple, but there's a reason it gets said over and over again. A black sheath dress is incredibly easy to accessorize.  I've featured this dress three other times on my blog and it's also the dress I'm wearing in my blog "logo"!
Wish you had a black sheath dress in your closet?  Here are a few that I think would fit the bill. Yes, the price on these might be sticker shock for some people, but if you think about the cost in terms of cost-per-wear you will get a lot of wear out of a dress like this if you work and it won't go out of style. So it might be something you want to spend a bit more on. Still can't stomach the price tag? Check out stores like TJ Maxx, Marshall's, Ross, Beal's or Burlington Coat Factory.  All typically carry a large assortment of dresses and I bet you'll find something!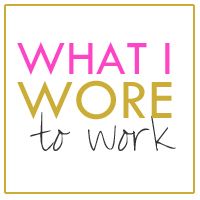 Also linking up with Vodka Infused Lemonade