Blazer – The Limited (similar) | Turtleneck – Express (similar) | Jeans – The Limited (similar) | Boots – DSW (similar) | Necklace – store in NYC (similar)
Before I had a style blog, before I even knew what Pinterest was, I saved an image on my computer from the Banana Republic website.  I loved the preppy, equestrian vibe it had going on.   I even sent the picture to another style blogger I read at the time to see if she would be willing to show me how to interpret it with items that didn't require dropping a whole paycheck at Banana Republic.  She told me she didn't wear much red and that was that.
I recently re-discovered this image saved on my computer and THEN I learned you can upload photos to Pinterest!  That they don't have to already be on another website to "pin" them.  Look, I may be book smart but I'm still learning about all these new-fangled Internet things.
Anyway, while perusing my pins for something to recreate for today's Copycats Friday from Frills for Thrills I saw this pin and the light bulb went off.  I now have all those items!  In fact, I've had the gray blazer since September and all the other items for much longer but this week was when they finally all came together in my head.
Which is why you should totally save images of outfits that catch your eye even if you don't have the items to recreate them at that exact moment!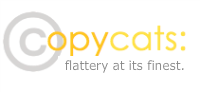 Also linking up with: Two Thirty Five Designs | Texas Lovebirds | Modly Chic