Wait, what?  Rockabilly?  What is that?  Let me explain.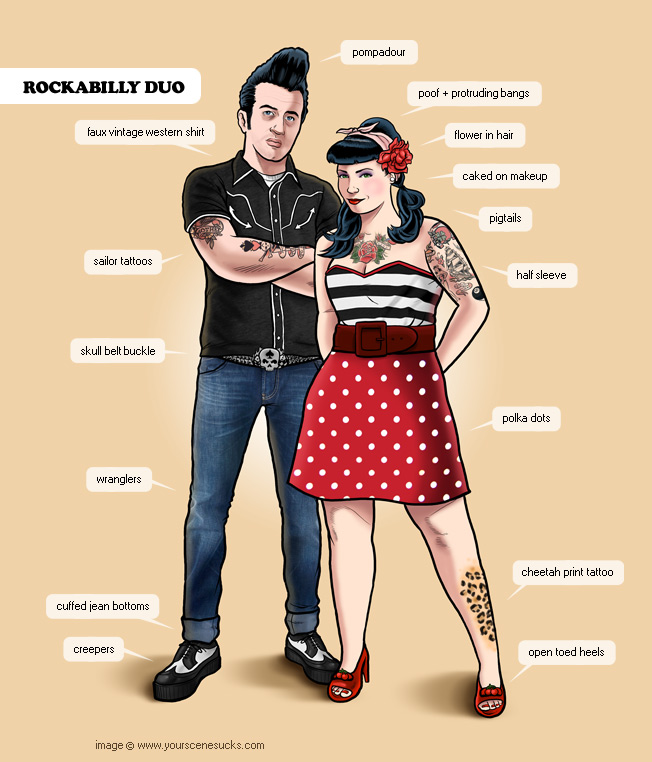 Sara recently contacted me and wrote the following:
I have a style question I need help with: I love the rockabilly pin up style, like the clothes from Pin Up Couture. Everything with anchors, swallows, cherries and polka dots in particular. But how do I calm down this striking look for a more office-appropriate setting?  Our dress code is very casual. Most of my coworkers don't care and wear washed out jeans everyday. I don't want to stand out to much, but on the other hand I don't want to lose myself and my clothing style.
Since this is not a style I rock on my own, I did a little research and found Rockalilly.  Per Rockalilly the key components are:
1. Rockabilly Prints and Patterns – leopard print, polka dots, gingham, nautical prints, tattoo prints.

2. Jewelry – A statement rockabilly piece, earrings, rings, bracelets. Usually pretty cheap and cheerful.

3. Cut of clothing – jeans can be cropped, skirts are pencil etc.

4. Hair – Victory rolls or bandanas are easy ways to give any outfit a rockabilly girl twist.

5. Glasses – vintage or cats eye. Statement pieces.

6. Make-up- Red lips and rockabilly eyeliner flicks.

7. Colours – Red, Black, Blue, White. Classic rockabilly colours.

8. Tattoos – Not essential but certainly help!

9. Shoes – Converse are pretty comfortable for a rockabilly girl doing casual.
With that in mind and Sara's comment that her office is pretty casual, I went about finding ways to incorporate the rockabilly motif into casual yet office-appropriate outfits.
Sara told me she's just recently purchased this cardigan so of course I had to incorporate it into one of the looks!  I originally had it paired with black and white polka dot jeans but felt that might be a bit too casual for the office.  But, if it's not, just know it looks awesome that way, too.
For this outfit I went with the cherry print and made it the focal point of the outfit.  I toned it down by pairing it with a cropped black cardigan with a fun retro-style button, some cherry heart earrings, and a pop of color with the shoes.  The jeans could be worn cuffed or straight.
If you're feeling spunky you could wear a fun skirt to the office.  Although a polka dotted pencil skirt would work well here, I personally feel that a full skirt is a little more casual, especially when paired with the denim jacket.  The stripes and anchors on the shoes and the animal print scarf bring in two more typical patterns for some fun mixing.  The scarf could be worn around the neck of the sweater or even in your hair!
Cat-eye glasses and bright red lips can take an otherwise preppy outfit and turn it rockabilly.  And changing up the shoes can take this outfit from casual to a little crazy.
Finally, I took one of the va-va-voom dresses from Pin Up Couture and made it more appropriate for the office without losing the rockabilly edge.  By tying a chambray shirt over the dress and adding some (fishnet!) tights but keeping the cherry pattern, the mary-jane heels and the bow headband you get the rockabilly look while not being too over the top.  You could even swap out the heels for flats and the patterned tights for plain ones and still keep enough of the rockabilly vibe.
What do you think?  Are you into the rockabilly style?  Sara, I hope you got some good ideas from this post!  And for the rest of you, don't be afraid to submit your questions to looplooks@gmail.com for a future You Pick Wednesday post!