If you follow me on Facebook, Twitter or Instagram (@looplooks) you may recall that I posted this image back in September.  The JF&A Show is a four day jewelry, fashion, and accessories extravaganza at the Stephens Convention Center in Rosemont, IL.  I went in 2011 and scored some great jewelry and accessory deals so I was looking forward to attending in 2012.
Last Thursday Kim and I took the afternoon off work to peruse the hundreds of booths filled with everything from fine gold and diamonds, costume jewelry, to various other items to fill your home and your closet.
The JF&A show is designed for people who run boutiques or other stores that sell accessories such as jewelry, scarves, gloves, etc.  So since it's a wholesale buyers market place, it's also a paradise for people seeking great deals!
Need a scarf?  They have hundreds to choose from, most under $20.  Need some fun necklaces or earrings but don't want to spend a ton?  You have your pick of pieces from $15 and under!
Kim and I spent several hours at the show browsing and buying.  Most booths only take cash for small purchases.  This actually works out well because you can pre-determine how much you're going to spend and only bring that much money.  Of course, I always go a bit over and have to borrow a few dollars from Kim.
This year's haul included the following:
Clockwise from left:
Necklace – $8.50
Scarf – $2.35
Leather wrap bracelet – $10
Leather wrap watch – $12
I also FINALLY ordered a grey J. Crew style bubble necklace for $15 including shipping.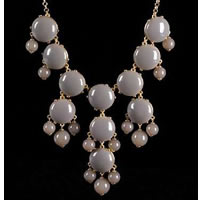 The JF&A show is also a great place to do some gift shopping.  I purchased one gift for someone as well.  But, don't worry!  If you didn't attend in October you have another chance to shop before the holidays!
The next JF&A Show is scheduled for November 29th through December 2nd in Schaumburg, IL and registration opens tomorrow, October 29th.  There is a registration fee of $5 if you register online or $10 if you register at the door.
I will definitely be attending this show to do a bit more gift shopping and to look for a few items I didn't pick up last week.  If you're interested in attending let me know!  It's always more fun with friends.