Blouse – Macy's | Dress (as a skirt) – Max Studio via Nordstrom Rack | Belt – Target | Necklace – The Limited | Shoes – SE Boutique via DSW
Today is CopyCat Friday!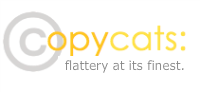 I was torn as to what to wear so I turned to Facebook for help deciding.  Thanks to those of you who weighed in!  The consensus was that I should go for a maxi skirt look.
This outfit from Lilly's Style turned out to be perfect.  One of the reasons was that her skirt?  Exact same style and brand as my dress!  Now that's a copy cat idea if I ever saw one.
I believe this is my first attempt at actually wearing a dress as a skirt.  How do you think it turned out?
And don't forget about the jewelry giveaway!  You still have some great chances to win!