Tank – Ann Taylor | Cardigan – Nordstrom Rack | Pants – The Limited | Belt – Old Navy | Shoes – Tahari via TJ Maxx | Necklace – New York & Co
Sometimes you just have to go with the old standby – black.  It always looks professional, you can dress it up or down and it goes with just about anything.  In fact, when I got married I asked my bridesmaids to wear a black dress.  They got to choose whatever they wanted.  I knew that black dresses accentuated with lavender shawls (my gift to them) would look incredibly classy.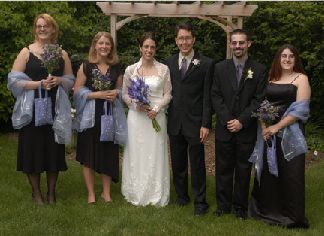 So when I don't know what to wear I pull out my black pants and pair them with a fun top.
Black may not be the trendiest thing on the planet, but it's always in style.
But what about those trendier items?  Do you want to see what they look like in the real world?  Or maybe you just want to see how to jazz up a pair of black pants in other ways. Well, now's your chance!
You Pick Wednesday starts tomorrow!  So, send your picks to looplooks@gmail.com to get in on the fun!
See a photo of an outfit online that you love and want to know how to make it happen in real life?  Send the photo to looplooks@gmail.com and I'll show you how!
Have something in your closet that you're not sure how to style?  Send a pic or a link to a similar item to looplooks@gmail.com and I'll take on the challenge.
Did I wear something that you want to see again?  Let me know and I'll make it reappear!
Basically, Wednesdays are YOUR day to tell me what you want to see!