Blazer – The Limited | Tank Top – Marshall's | Jeans – AG Adriano Goldschmied via Bloomingdale's | Necklace – New York & Co | Shoes – Karen Scott via Macy's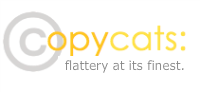 I admit, I did my copying a little backwards.  I had pieces of an outfit in mind so I just Googled until I found something that would tie it all together.
At first I was a little annoyed by how all the '"whites" in my outfit didn't match exactly.  But after looking at the picture I see hers don't either!  One of those fashion "rules" it's okay to break: colors don't have to match exactly!
A few other interesting notes:
I do own a

white blazer

, but since it's another warm summer day (and the air conditioning in my office was on the fritz yesterday afternoon) I decided to go with this short-sleeved option.

And speaking of this short-sleeved option, it actually goes with the

shorts I had on last week

.  Don't you love things you can wear as separates?

Don't want to wear leopard print heels when it's hot outside?  I don't really, either.  Here's what I wore on my commute.
The Limited